The original Sandfields pumping plant 1858-1866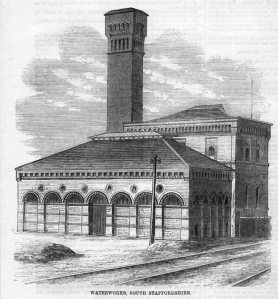 The original pumping station was designed by Edward Adams of London, and built by Messrs. Branson & Gwyther of Birmingham. It was equipped with two single cylinder 46 inches diameter x 8 feet stroke double-acting condensing, rotative beam engines (nos. 1 & 2 engines) supplied by James Watt & Company of the Soho Foundry, Smethwick, in 1858. The two engines were connected by a common crankshaft to a flywheel located between them. Four Lancashire boilers - operating at 25psi - were installed in a separate boiler house, to provide steam for the original two engines. At the same time as the original two engines were installed, foundations for a similar but independent no.3 engine were laid. The no.3 Watt beam engine and two additional Lancashire boilers were installed in 1866. There were then six Lancashire boilers – rated at 25psi – supplying steam to the three Watt engines, each of which was capable of developing 120hp at 9 rpm and could pump 1¼ million gallons of water per day against the delivery head of 355 feet.
Installation of the Cornish pumping engine 1871-1873
In July 1871, William Vawdry, the Company Engineer, recommended that the existing engines were supplemented by the installation of a fourth engine, due to the inadequacy of the existing pumping capacity.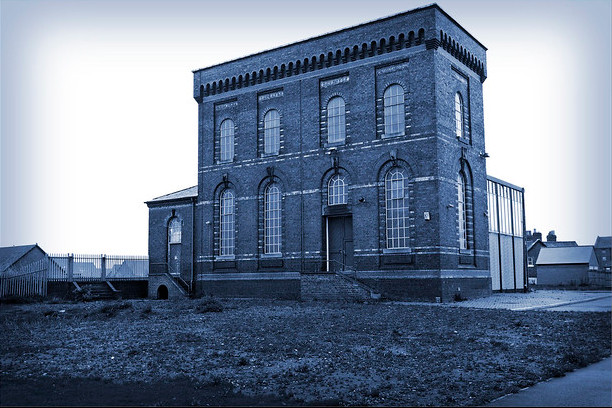 In 1873 an additional well was sunk and a new engine house built (against the original which housed the Watt beam engines) to accommodate engine no.4 - a Cornish pumping engine. The Birmingham-based architect, Henry Naden, was commissioned to design and supervise the construction of the Cornish engine house, whilst Bennett & Company of Lichfield were appointed to build it. Work to construct the new engine house began in early 1872, with Naden supervising the sinking of the new well. In August 1871, Jonah & George Davies (Engineers & boilermakers of the Albion Foundry, Tipton, Staffordshire) were awarded the tender to supply and erect a Cornish pumping engine at Sandfields for £5,820. The engine was planned to be completed in nine month, but Messrs Davies experienced financial problems and were declared bankrupt in January 1873, with the engine still incomplete. The engine was eventually completed and installed, under the direction of William Vawdry, in late 1873. This is the beam pumping engine that still exists at Sandfields pumping Station.