In addition to care and restoration of the 1873 Cornish steam engine, our volunteers are also carrying out research into the lives of people who have worked at Sandfields for the past 160+ years.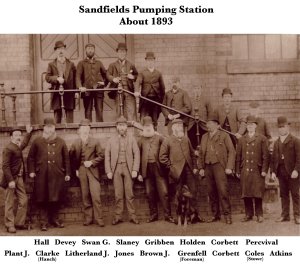 We are fortunate to have this photograph, taken around 1893, of the workforce employed by the South Staffordshire Waterworks Company to operate and maintain the four steam driven pumping engines and associated boiler plant that were in service at the time. Wendy Hughes, a member of the heritage team, has carried out in depth research using public records, South Staffs Water's extensive archive and information from living descendants and other relatives, from which she has imagined and written the 17 diaries which are displayed here. It is our intention to extend this research and gather information about as many of the employees, who have worked at Sandfields since its inception, as possible.
Can you help us with this project? Are you descended from a former Sandfields employee? Would you like to help us with the research? If so, please have a word with one of our volunteers or contact us via our website: - www.LichfieldwaterworksTrust.co.uk
our ancestors email: Ancestors@LichfieldWaterworksTrust.co.uk
We hope you enjoy reading the diaries.